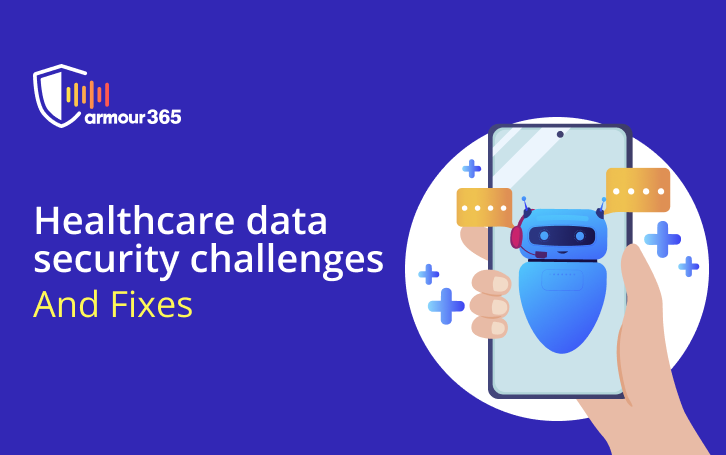 The healthcare industry saw a 55% increase in cybersecurity threats. It has always been a favorite target of cyber terrorists. If proper measures are not taken, such attacks will disrupt the healthcare sector and bring daily operations to a standstill. Lives are at stake. Falling victim to such an attack can have devastating results; monetary loss is the least of the worries.
Hackers love healthcare data because it is lucrative. According to a 2019-2020 report,  One healthcare record is worth up to $250 on the black market.
Let us look at the top healthcare data security challenges:
Top healthcare data security challenges:
1. Patient privacy protection:
Cyberthreat risks keep increasing since the healthcare industry is becoming more technologically dependent. External theft and insider misuse are rampant.
External theft: Hackers stealing data from a location outside the healthcare organization is characterized as external theft. Patients' personal information is used to make fraudulent insurance claims, for instance. The hackers might also hold the hospital ransom for restoring patient data systems. In 2020, the attacks from outside actors (51%) exceeded those of inside breaches (48%), according to Verizon.
Insider misuse: It can be in the form of abusing patient data for material gains, unnecessarily accessing patient data, or overriding security protocols to make their job easier. Even mistyping information on electronic health records (EHR) or clicking on a phishing email is considered a case of insider misuse.
2. Unsecured network connections:
Organizations use wireless connections to ensure that their processes are always up and running. Potential cyber attackers will try to access networks that are poorly optimized.
3. Lack of cyber security education:
A problem that requires extra care is that healthcare providers such as administrators, doctors, and nurses are not trained in protecting systems and data from cybersecurity risks. They don't realize that even they play a part in protecting patient data. The lack of accountability is also because most healthcare organizations do not have a designated person for cybersecurity.
4. Vulnerable legacy systems:
A common fault with legacy systems is that it provides back-door entry to cybercriminals to access systems that hold medical and personal data. Since legacy systems are usually outdated, there is no support available from third-party vendors. Therefore, it becomes increasingly difficult to fix issues or address problems.
Modernizing healthcare systems will result in the following:
Minimize security breaches and cyber theft
Improves healthcare access
Better quality of care and outcomes
Lowers the cost of healthcare
5. Security breaches:
Hackers breached a 3rd party system from Dental Care Alliance. The bank account numbers of more than 1 million patients were breached. Cyber attackers didn't hesitate to take advantage of Covid-19 fears. Emails of a "coronavirus map" that tracks Covid-19 cases were sent. On clicking the link, the malware stole passwords and credit card information.
These threats come from internal and external sources and impede the ability to provide necessary patient care.
Now that we have seen healthcare data security challenges let us see what can be done to fix them.
Solutions to healthcare data security challenges:
Create a security culture:
Ensure that there is a culture of cybersecurity where every activity in the organization is mindful of it. There should be regular cybersecurity training and mandatory courses to attend.
Telemedicine:
Covid-19 has increased telehealth use by 38X, according to McKinsey. It streamlines the information flow within the organization and keeps the data protected.
Zero trust model:
This model will help build comprehensive security parameters. Here's what a zero-trust model entails:
Separate mission-critical systems from other systems
Provide only 'least privileged access.'
Use only secure web gateways for remote access
100% multi-factor authentication to prevent unauthorized access
Voice biometrics:
It provides a secure system for healthcare professionals to access medical records. Even patients can authorize information transfers with a simple voice command. Voice biometrics allows access to updated and correct information and reduces fraud instances. The process of enrolling patients becomes faster too.
With voice biometrics, healthcare organizations don't have to indulge in the rigmarole of filling multiple forms, signing them to health tracking apps, or authorizing the use of their information. Voice biometrics integrates with conversational AI chatbots to efficiently validate and fill the data.
Implementing cybersecurity efforts can go a long way in alleviating the attacks from external agents. Healthcare organizations need to monitor the security of their entire ecosystem while securing patient data, their privacy, and the hospital's infrastructure.
armour365™ is easy to deploy in healthcare organizations and integrates with other apps. The contactless nature of healthcare tools and applications requires such voice biometrics solutions.